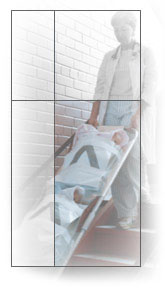 W. Murphy Enterprises Inc. was incorporated in November 1988. This small Canadian company began with the design and manufacture of the WEEVAC 6 and has gone on to design other innovative evacuation stretcher systems for use by hospitals, nursing homes, public buildings, Fire, EMS, Police, military etc...

Trademark & Patents
WEEVAC is the trademark of an innovative line of emergency evacuation stretcher systems, which has been patented in Canada, the U.S.A., and with worldwide patents pending. The company has received United States F.D.A. market approval for these stretchers. WEEVAC stretchers are designed and manufactured in CANADA.

WEEVAC stretchers have been adopted by institutions across North America to enhance their evacuation plans - from Hawaii to Bermuda and as far away as Sarajevo Children's Hospital with the UNHCR.

Other WEEVAC products include rescue stretchers for EMS and Search & Rescue, a marine storage system designed for the Canadian Coast Guard and a transport incubator cover designed to maximize heat and energy efficiency.

WEEVAC products are sold in the following countries: Canada, U.S., Japan, New Zealand, Bermuda, United Kingdom (England), Saudi Arabia and the UAE.